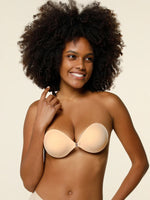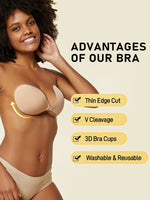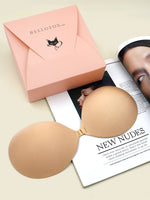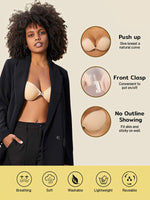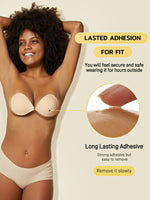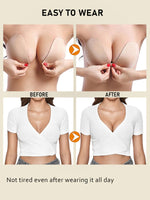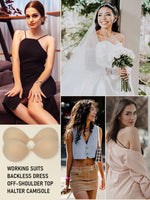 Breast lift strapless pushup Bra
Sticky bra is a unique adhesive bra that offers the same freedom as going braless but with great support and lift. Its outstanding design doesn't have any bands or straps and is completely invisible under clothing. It's perfect for a natural look under tops and dresses! This silicone bra is light-weight which won't make any sense of uncomfortable. Absolutely soft & invisible under low-cut clothing. And our sticky backless bra is very comfortable, with a soft edge design and nude color makes it seamless and invisible which can be worn under your clothing in a very comfortable and natural way.
Push Up Breast Lift Tape Women Silicone Breast Lift Covers Nipple Stickers Pasties Invisible Adhesive Nipple Covers Reusable Comfortable
UNIQUE ENHANCED AND LIFT DESIGN : Thin edge and thicker center is better to protect and hide nipples, Give the breasts extra lift. The pasties nipple covers can free you from the shackles of the bra to the greatest extent
BRA-LESS & REUSABLE : Specially designed for backless/strapless dresses, t-shirts, wedding gowns and so on. The women Silicone Pasties are Waterproof and Washable
MULTI-FUNCTIONAL TAPE : This boobtape can stick to your skin steadily whether it is sweating during exercise or when it touches water. Or women need to wear swimsuits when swimming. At that time this tape is very suitable.
CARE INSTRUCTIONS : Better wash them by hand and rinse with water then air dry naturally.After drying,the plastic sheets can be reattached on and put them in a bag for next use.Adopt premium silicone makes the nipple covers can be worn multi (2-3)times without loss of stickiness.
OCCASION : Thin design makes it suit for strapless and backless tops, wedding & formal dresses, deep V dress, swimwear, and basically all fashion outfit for party, dance, swimming, spa, nightclub, wedding dress, etc. Let you keep a relaxed mood and enjoy
Country of Origin - India