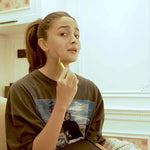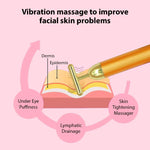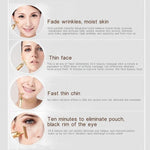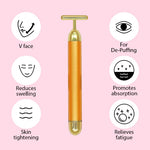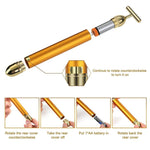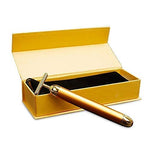 24K GOLD FACE MASSAGER
The original Bellofox 24K GOLD Face Massager Roller without the oil and cleaning spray to make it a more affordable option for all our Face Yoga lovers. 
Alia Bhatt & Bollywood's favorite Skin Gym Massager. 
The natural current which exists inside the body can be affected by pressure and aging, which is the main cause of spots and loose skin. Since the wavelength of gold ions and living beings' natural current is the same, a slide of the gold ions on the skin can regulate and balance the bioelectricity, thus promoting metabolism and activating skin cells, giving radiance and elasticity to the skin. Your go to Face gym tool. 
It works on a AA Battery.
❤ What's in the Box – Face Massager Skin Care Tools*1. This cosmetic skincare tool helps facial rejuvenation and gives your skin a smooth and healthy glow.

❤ Power Supply – Requires one AA batteries (not included); Vibrating handle can be used "on" or "off", Vibration frequency: About 6000 times/minute.

❤ Always Use the Material of the Best Quality – 24k gold surface special treatment skin care tools. It is safe and efficient to promote the blood circulation.

❤ Visible Transformation – Activate skin cells metabolism, restore skin firmness and elasticity, preventing the aging, enhancing immunity. Get dramatic beauty results, Radiate your beautiful skin.

❤ Affordable Quality – Professional facial massage therapy cost hundreds if not thousands of dollars, With consistent use this massager, you can see a difference for less than the price of a week's worth of lattes!